Business History
Engraving Connection was opened in October 1978 as a gift engraving business focusing on bracelets, lockets, key rings, and other engravable jewelry. The store was a success right from the start. The company continued to grow with the owner, Rex Tubbs, working many hours and a few part-time employees. During Christmas, Rex logged onto CompuServe and found a test site, called "Electronic Mall." Since business was good and busy, Rex couldn't get out to Christmas shop, so he did his Christmas shopping online. The experience was exciting and right after the holidays, Rex contacted CompuServe to learn more about it. Engraving Connection soon had a store within the Electronic Mall site. Rex set up his Commodore 64 to access and download orders!
The first year, Engraving Connection lost $20,000 on the site, but this didn't discourage Rex. He soon discovered people buying rubber stamps and executive gifts. At this time, almost 95% of CompuServe customers were men with discretionary income. By the second year, Engraving Connection became the Executive Stamper on CompuServe. For the next nine years, Engraving Connection had a good run. It was inspiring to receive orders from around the world. One order came from Blackpool, England, who purchased a rubber stamp. Three days later, we received an email of amazement from the Blackpool customer stating that he had received his order. He mentioned that he has an office supply just down the block from his home, and it takes them two weeks to produce a stamp. On CompuServe, he can order a rubber stamp from another continent and get it in three days! "It's a Bloody Miracle," he said.
Toward the end, sales were getting soft and we could see the market was changing with the birth of the web. CompuServe wanted merchants to help pay for a new mainframe so that the Electronic Mall could have graphics. Since Engraving Connection is just a small storefront business and not a big corporation, Rex decided it was a good idea to discontinue the mall and part ways with CompuServe. Rex was given a plaque from CompuServe, acknowledging Engraving Connection as one of their charter merchants.
After CompuServe, Rex developed the business through direct mail to corporations needing corporate awards and gifts while keeping personal gifts for special occasions like weddings, births, and graduations. Rex started opening websites going after niche engraving markets. Some of the websites are: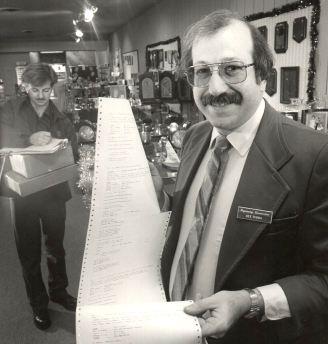 Today, Engraving Connection is a full-service engraving operation with 1,200 sq. ft of production and showroom space. Stay up to date with us by visiting our new website https://www.engravecon.com and follow us on Facebook and Linkedin. If it can be engraved, we can personalize it for you!
APA Certification
APA (Awards and Personalization Association) has a certification program for its members. Rex M. Tubbs, the Engraving Connection owner, is a CRM (Certified Recognition Master), the highest certification given. This means that Rex has over 170 hours of training in the awards industry. Rex is also a seminar speaker for the association and gives seminars around the country and writes articles for Recognition Review (APA trade publication).
Owner – Past President of APA
Rex M. Tubbs, CRM, has been very active in his trade organization (APA). During 1998-99, Rex served as president of APA. APA has over 4,000 members around the world. Rex traveled to events around the United States and Canada and started a strategic planning process for the organization to follow.