Engraved Family Tree Plaques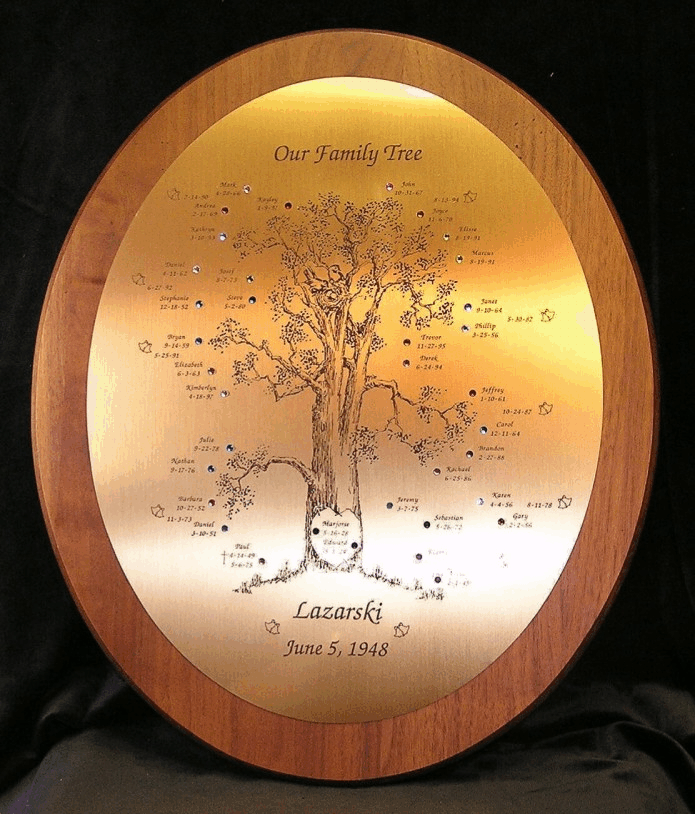 A family tree plaque is a great gift idea to celebrate anniversaries, birthdays, Mother's Day, and Christmas. Commemorate your family ties with a beautiful piece of walnut wood overlaid with brass. We engrave into the brass plate your family's names, birth dates, and loss dates. Choose to include embellishments like birthstones and special symbols for added appeal. This family tree plaque is exquisite and will be treasured for years to come.
Complete the order form below to calculate the estimated price. We will contact you within a couple of days to verify your proof. The whole process from ordering to shipment takes about two weeks.
Family Tree Tips and FAQS
How to Lay Out Your Family Tree

Most people start with the grandparents. Their names go in the trunk of the tree. The lowest large branch of the tree would be their firstborn, then the next higher branch, the second-born, and so on.

As each of the children are married, their spouse's name goes next to theirs on the plaque.

As they have children, the names are put further out to the smaller branches of the tree limb.

Can Names Be Added in Later?

Yes, just return the Family Tree Plaque to us, and we will add the names. It is more cost-effective to add several names at one time.

What if There is a Divorce?

Return the plaque to us and we can remove the name. Call or contact us prior for a time and cost estimate.

Can I Make Corrections to the Family Tree?

Yes, you can. In the ordering process, we will supply you with a proof. Please make any corrections at this time. Most of the time, you may want the names to be moved around to make the tree look more balanced. Once we have final approval from you is when we engrave the Family Tree Plaque. This whole process is included in the price of the plaque.

On occasion, a mistake is found after the plaque is completed. Yes, we can correct the error, but there will be a charge for the correction. It is important to take the proofing process seriously. We want your Family Tree Plaque to be perfect.

Adding Symbols to the Plaque

We have various symbols to use for your plaque. They are listed on the Family Tree Plague webpage and the downloadable document. In the case of a death, a cross, a rose, or an angel can be used. It's your preference. Parents who lose a child may use a broken heart. Or, a paw print for a beloved pet.

When in Doubt, Contact Us!

Not sure how to get started - give us a call 877-829-2737. Or, contact us for general inquires. We are happy to help you with the ordering process and layout of your Family Tree Plaque.